HYPNOTHERAPY AND COACHING
ADVANCED
CERTIFICATION PROGRAMME
2024 Dates:
May 18th - 19th
May 25th - 26th
June 1st - 2nd
Our Advanced Hypnotherapy Certification Programme is Accredited by CPD.
What is CPD?
CPD Certification Service was Established in 1996 and it is the world's leading and largest independent CPD accreditation organisation. CPD is a commitment to ongoing lifelong learning. CPD is a certification body or accreditation services that evaluate and validate the quality of learning activities. These bodies set standards and benchmarks to ensure that CPD programs meet certain criteria, providing professionals with recognised and credible evidence of their quality.
What is accredited CPD training?
Accredited CPD training means the learning activity has reached the required standards and benchmarks. The learning value has been scrutinised to ensure integrity and quality. The CPD Certification Service provides recognised independent CPD accreditation compatible with global CPD requirements.
With over 27 years' experience providing training certification, CPD are the world's leading certification organisation.  
Learn more about CPD
FEEDBACK FROM CPD CERTIFICATION SERVICE
"The Advanced Hypnotherapy and Coaching Certification Programme is a comprehensive and immersive training designed to equip participants with advanced skills in both hypnotherapy and coaching. This program delves deep into the principles of hypnosis, advanced suggestion techniques, and the art of building powerful client relationships. Participants will master advanced language patterns, deepen their understanding of therapeutic states, and gain the expertise to guide clients toward profound personal transformation. This advanced certification opens doors to a fulfilling career in hypnotherapy and coaching, offering a holistic approach to helping others achieve their goals."
Learn to Integrate Hypnotherapy in Your Coaching Practice 
Advanced programme for existing coaches, therapists and healers
Hypnotherapy Foundation
Certification Programme (4 Modules)
Introduction to hypnotherapy and coaching
Processing information
The power of the subconscious mind
Hypnosis Induction Techniques and deepening methods
Ethics and professional standards in Hypnotherapy
Deepeners and metaphors
Hypnotherapy Scripts
Ethics and professionalism
Effective communication and active listening in coaching
Hypnotherapy terminology
Working With The Subconscious Mind
Cognitive Reframing
DOWNLOAD THE GUIDE
Hypnotherapy Advanced
Certification Programme (6 Modules)
Introduction to the Nervous System

 

Somatic Healing

 

Stress Management

 

Overcoming Fears & Phobias

 

Trauma healing

 

Age Regression therapy and past-life Exploration

 

Generational trauma healing

 

Cognitive-behavioural approaches in hypnotherapy

 

Types of hypnosis

 

Using hypnotic language

 

Cognitive restructuring and belief change in coaching

 

Relationship coaching and conflict resolution

 

Instilling confidence in clients and anchoring techniques
Are you an ambitious woman ready to take the first step towards a fulfilling career in coaching?
Or perhaps you're an existing hypnotherapist, coach, or healer looking to enhance your skills and make a lasting impact on your clients.
This program is designed especially for you.
Feedback from students inside the
Foundation Programme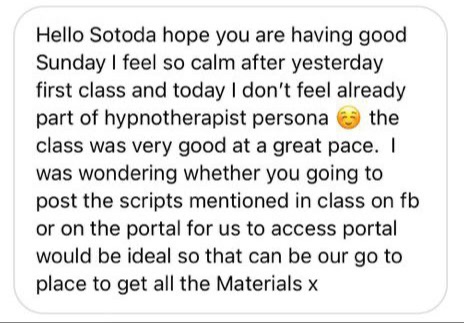 Why Choose Our Programme?
Whether you're just starting or have experience, our program empowers women to excel in the dynamic fields of hypnotherapy and coaching.

Delve deep into the power of the subconscious mind, master effective communication, and gain essential ethics and professional standards knowledge.

Learn hypnosis induction techniques, scripting, metaphors, and deepening methods that can be applied across various coaching and therapeutic contexts.

Stand out in your career with a solid foundation in hypnotherapy, making a lasting impact on your clients' lives.

Join a network of like-minded women committed to personal and professional growth, fostering a supportive learning environment.

Receive guidance from experienced professionals in the field to help you succeed.
FOUNDATION HYPNOTHERAPY PROGRAMME
If you do not have a background in hypnotherapy we have got you covered! The 4-Module foundation programme provides you with a solid foundation to kick-start your hypnotherapy journey. You will also receive implementation and accountability support throughout your self-paced journey. 
LIVE INTENSIVE TRAINING 
6 Modules Live Programme of intensive training. We meet every Saturday & Sundays for 6 Days. 

You will get access to a private portal with all the trainings and resources. 
Gain access to a curated collection of resources, tools, and recommended readings that will expand your coaching knowledge base and help you excel in your coaching practice
Connect and interact with a vibrant community of aspiring and experienced coaches who are participating in the challenge. Collaborate, share experiences, and support each other on your coaching journeys.
IMPLEMENTATION SUPPORT
Practical Exercises, Live Q&A Sessions and ongoing asessments to help you integrate the knowledge

PERSONALISED FEEDBACK
Receive personalised feedback on your coaching performance from our team of experienced coaches. Submit recordings or written examples of your coaching sessions, and get constructive feedback to help you refine your skills
CERTIFICATION OF COMPLETION
Upon successfully completing the challenge, you will receive a digital certificate of completion, recognising your commitment to personal and professional growth as a masterful coach.
What impact you can have after becoming certified? Here are some of my client feedback
A lot of us go through childhood trauma without realising the effect it has in our adulthood. It will show up in different ways. Patterns will appear on the way we interact with others, our personal relationships etc.... Healing is not a quick band aid, it takes time. With the right tools and guidance and the will to forgive yourself and others, the path is there for us to take..Trauma can come at any age. I had the chance to contact Sotoda, I would recommend her without any hesitation!
7 days ago I did a Hypnotherapy session with Sotoda and I am still tingling from it. She has a gift of guiding you through a world beyond your consciousness, one that is present within yourself just waiting to be explored. Due to her warmth, I felt completely safe and open to be led towards a path that gave me so much energy and confidence. Thank you for sharing your gift. I am still benefitting from it.


I attended the 6-week trauma healing course as an investment to personal growth with the intention to change my mindset. Regardless of this I had a laidback approach to allow for a natural healing process and I can tell you I was pleasantly surprised as I felt a shift within me. I gained understanding, acceptance and a sense of inner peace. Sotoda is amazing and her guided meditation is truly hypnotic, in the sense it really unlocks deeper levels of yourself. 
When I went to my first session, I experienced something that I had never experienced before. I was able to connect with a part of my soul, I had never communicated with before. My session with Sotoda helped me open doors that were shut my whole life, allowing me to experience things I had not been aware of before. I felt like the changes I needed to make in my life in order to feel the happiness I deserve, were made so clear to me. I felt at ease and very comfortable to relax.
It was an amazing session with Sotoda. I was guided into a deeper meditation which it took me to a deeper level of consciousness in my subconscious mind. I always wanted to have a session to meet my Higher self where I can connect deeper and have some questions answered. The wisdom I got from my higher self was beyond my imagination. Sotoda thank you for your gentle and compassionate guidance (Higher Self Hypnosis)
My session with Sotoda was really great. She is someone who is extremely patient, calm, understanding and very good at what she does. I underwent a guided meditation and answering some questions in regards to help me quitting smoking. Sotoda guided me deep into my subconscious mind, which showed me the unpleasant feeling and effects of smoking. After the session, I was full of energy, strength and will power for not smoking anymore. I am very grateful to Sotoda for her compassionate guidance, care and help.